Prepare Anxiety-Ridden Pets for the Busiest Travel Time with ThunderWorks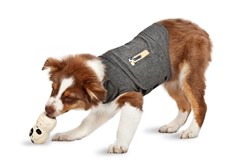 Durham, N.C. (PRWEB) November 22, 2013
With more than 39.6 million people estimated to be traveling via automobile this Thanksgiving season, many cars on the road will also be carrying the family pet. In fact, according to the American Pet Products Association, one-third (32 percent) of dog owners bring their dogs when traveling in a car for a trip lasting at least two nights. What pet parents may not know is that the tight spaces, unfamiliar motion and long durations associated with car travel can lead to anxious and irritable behavior in our dogs. Signs of travel anxiety include carsickness, barking, whining, pacing, scratching and restlessness. Many dogs become dangers to themselves and others by jumping on the driver or otherwise distracting concentration from the road.
The day before Thanksgiving is the busiest time of year for travel and more pet parents are choosing to bring pets with them each year, said Phil Blizzard, founder of ThunderShirt. ThunderWorks offers variety of calming solutions to make car trips less stressful for our pets.
With its patented design, ThunderShirts gentle, constant pressure has a dramatic calming effect for dogs and cats if they are anxious or fearful when riding in the car. Using the ThunderShirt prior to car entry can help combat a pets erratic behavior, even for short car rides. Anxiety experts believe that pressure has a calming effect on the nervous system and releases calming hormones like endorphins or oxytocins. ThunderShirt is available in XXS-XXL and retails for $ 39.95.
For a dog that simply needs a subtle distraction in the car, the ThunderToy and ThunderTreat are a thoughtfully designed stuffable puzzle chew toy and calming treat combination that helps calm and distract stressed or anxious dogs. The ThunderTreat is made to fit inside the ThunderToy, and includes proven calming ingredients such as chamomile and lavender and is made in the USA. The ThunderToy is available in two sizes, small and large, and retails for $ 12.95 and $ 14.95. The ThunderTreat is available in 4oz. bags for $ 7.95, and 8oz. bags $ 9.95.
ThunderSpray calms and comforts pets by mimicking a mothers natural pheromones and is comprised of soothing fragrances of lavender and chamomile. ThunderSpray can be used in two ways: by spraying a single burst in the car where the pet will sit, or in conjunction with the ThunderShirt and sprayed on the neck of the ThunderShirt. The calming pheromones and fragrances continue to release for an extended period and the liquid will dry stain-free. ThunderSpray is available for both dogs and cats, and retails for $ 19.95.
Sometimes, pets can become increasingly stressed by what they see when traveling, for example, other cars or animals outside. The ThunderCap filters a dogs vision in order to reduce the visual stimulation that is experienced during travel. ThunderCap is available in sizes XS-L and retails for $ 19.95.
In addition to finding the best pet stress and anxiety solution product for your pet, ThunderWorks also reminds pet parents: