New Novel Sheds Light on Life With PTSD and OCD as Two Childhood Buddies Reconnect, One a Returning Iraq Vet and One a Father, in Serious but Funny 'Grown Men Don't Cry'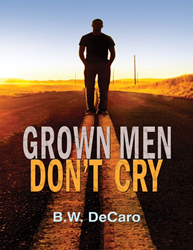 Friendswood, TX (PRWEB) February 25, 2014
TotalRecall Publications Inc. announced today the publication of debut novel Grown Men Dont Cry by B.W. DeCaro, which compellingly portrays life with Post Traumatic Stress Disorder and Obsessive Compulsive Disorder through two reuniting childhood buddies. One is a Marine returning from his third tour of duty in Iraq with a bad case of PTSD and the other, now a father, never left their small town and has OCD and a family history of mental illness that threatens to overwhelm him. Circumstances bring the two men back together again in a way that could help them both find some peace.
The novel recounts their hilarious, youthful escapades and their separate paths until events bring them together again. As their renewed friendship grows, they begin to share their own hidden anxieties about their mental illnesses and the effects on family and other relationships. Their stories clear up misunderstandings about the two related disorders of PTSD and OCD as the friends deal with their own misconceptions.
A portion of all book proceeds will be donated to causes supporting people who suffer from depression and other anxiety disorders, such as OCD and PTSD. In addition, DeCaro plans to use this platform to help educate the general public by striving to eliminate the negative stigma associated with mental illness.
Grown Men Dont Cry is a coming of age story that will resonate with readers growing up during the 80s and 90s. As the popular jocks in the one-stoplight town of Bristol, New Hampshire, Ben Chase and Jimmy Keller are best friends whose unique creativity and bold personalities make for some hilariousand heart-wrenchingstories. Laughter doesnt make up for pain inflicted by their dysfunctional families, but it certainly creates some unforgettable memories.
Growing up, Ben has viewed his OCD as nothing more than a nuisance. Then all hell breaks loose the day that he becomes a father and realizes there is a lot in the world that he cant control. Meanwhile, Jimmy is battling his own demons. Since his return from his third tour of duty in Iraq, he has suffered from a severe case of PTSD. Declaring hes had enough, Jimmy makes the conscious choice to end his life.
While out enjoying what is supposed to be his last meal, Jimmy overhears a conversation about a former baseball standout that has just months to live, and discovers its his old friend. Jimmy puts his suicide mission on hold to reconnect with Ben.
In their weakest moments, its now shared pain which helps rekindle their unbreakable bond. Grown Men Dont Cry is the story of sacrifice, friendship, mortality and the will to persevere.
Author B.W. DeCaro grew up in New England, spending his teenage years in Bristol, New Hampshire. He attended the University of New Hampshire (95), and soon after moved to Northern Virginia, where he now lives with his wife and two children.
'Grown Men Dont Cry' is his first novel. I definitely wanted to write a story that made people think, and that had some heart behind it as well, DeCaro says. He originally self-published the book, but he won the recent Ultimate Hero Contest, which netted him a publishing contract with Total Recall Press.
The book is available online at Amazon.com in paperback and as an e-book. DeCaro is donating a portion of all proceeds from the books sale to nonprofits that help service members and those with mental health issues, such as the Wounded Warrior project.
More information on DeCaro http://www.bwdecaro.com
TotalRecall Publications Inc. was founded in 1998 by Bruce Moran, a former NASA IT professional who transitioned into computer instruction and educational materials. The company began with the introduction of study guides and Q&A testing software for various computer and financial certification exams and expanded into library and information science textbooks in 2007. Since 2008, the publisher has been developing a fiction product line by debut authors that focuses on mysteries, thrillers, and military action. Additionally, TotalRecall has expanded into general nonfiction and now publishes more than 200 non-fiction and fiction titles, all distributed worldwide through book retailers and wholesalers and via eBook databases such as ebrary, EBSCO, and Books24x7.com. http://www.totalrecallpress.com