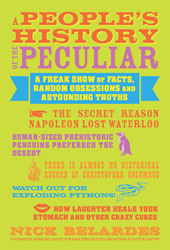 (PRWEB) May 22, 2014
Nicholas Belardes, who authored A People's History of the Peculiar: A Freak Show of Facts, Random Obsessions and Astounding Truths, will be interviewed live on Coast to Coast AM tomorrow from 10pm to midnight. Belardes will unearth the secret history of the United Staes. American history is filled with mysteries, cover-ups, and oddities, and Belardes plans to divulge them all to George Noory. What really happened in Roanoake, Virginia with the "lost colony?" Which relative of Thomas Jefferson was an axe murderer? Were the founding fathers members of secret societies? Belardes will address all these fascinating questions and more.
What People Are Saying about A People's History of the Peculiar:
A compendium of blisteringly funny facts, outrageous anecdotes and all kinds of zany information you really need to know.

Caroline Leavitt, author of Is This Tomorrow
For the reader who needs to know why the characters in Dilbert dont have mouths, your oracle has arrived.

Jonathan Evison, author of West of Here
Kooky, intriguing, and even downright bizarre, A Peoples History of the Peculiar: A Freak Show of Facts, Random Obsessions and Astounding Truths by Nicholas Belardes is a collection of random truths and mind-boggling trivia you didnt know you wanted to know. Seasoned trivia junkies and curious minds alike will love the astounding array of real-world information, from historical oddities to the worlds most mysterious nooks and crannies. Author Nicholas Belardes has devoted his life to digging up explanations for the unexplainable, and now his outlandish findings are available to mystify and delight readers with hours of entertainment.
Nicholas Belardes is a history professor, journalist, blogger and videographer. N.L. writes several media blogs, including Noveltown's Paperback Writer and ABC23's Nick 2.0. His work has appeared on the homepage of CNN.com and other news sites all over America. He lives in Los Angeles.